That I have not picked up the proverbial pen to write about Federer in the last few years is less a function of a waning interest in his performances – you could always find me searching for a stream of his matches whenever he was scheduled to play – as it was, on my part, an acquiescence to what appeared to be the arrival of tennis mortality's final and inexorable triumph over Fed. Of course, sports writers have been pontificating about The End of Roger for years now – this piece, from 2011, is a beautifully written exemplar of that sub-genre of tennis journalism, and it is clear that the most productive years of his career were over by 2008 – but, going through my old posts, I do not think it was an accident that my tennis writing output fell of a cliff following 2013. Nothing signalled more clearly the acceleration of his decline than ignominiously tumbling out of his hallowed stomping grounds of Wimbledon that year in the second round to a qualifier. Because that's what old age heralds, doesn't it? The automatic becomes labourious, and certainties fissure.
In the years since, there were still flashes of hope that never did manage to bear fruit. A Wimbledon final in 2014, where he almost pulled off a stirring comeback against Djokovic. A U.S. Open later that summer in which he would have only had to defeat Marin Cilic and Kei Nishikori to walk away with the winner's trophy, all other members of the Big 4 having been eliminated at this point, only to get duly trounced by the Croat in straight sets. A return to the Wimbledon final in 2015 with precisely the same result, only, you know, less stirring. These matches were excruciating to watch: I couldn't rid myself of the fear that this time – this time, surely, would be his last chance to win another major, because, when he wasn't making deep runs into tournaments, he was being picked off by players against whom he had established otherwise dominant head-to-head records. Losing to another member of the Big 4 in his respective prime was one thing, but to Tommy Robredo and Andreas Seppi? And when, finally, Milos Raonic – that towering, big-serving type that Federer veritably specialises in swatting off the court (sorry, Andy Roddick...) – got the better of him at SW19 last year and Roger, his previously pristine physical constitution crumbling at the edges, pulled the plug on his hapless 2016 season, it seemed that my direst fears had been proved true after all. Rage, rage, against the dying of the light, but, in the end, darkness comes even for the Fed Express.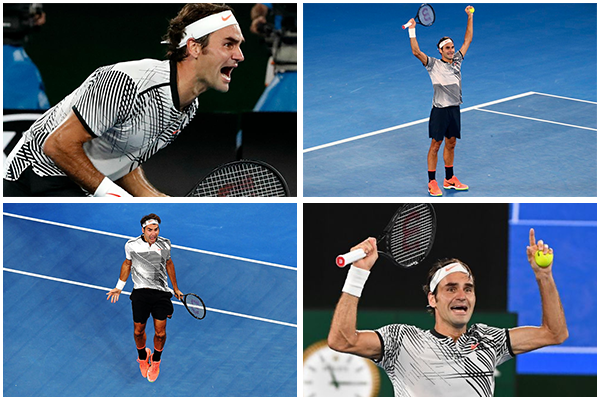 When he returned to tour at the start of this year, I carefully laid down a piece of washi tape in my planner and wrote on it, "Roger Federer at the Australian Open." I had no idea how many empty lines to leave underneath it, however. It takes seven best-of-five matches to emerge a Grand Slam champion; how many rounds did I reasonably think tennis's premiere senior citizen, coming off an extended layoff, could go? In his absence Federer's ranking had fallen to No. 17, a number that, to fans, might as well have had a few zeros after it. A seeding that low turned his draw into a minefield. Even his first-round opponent – Jurgen Melzer, a former occupant of the top 10 – looked like he could be trouble, to say nothing of the obstacles that loomed over the horizon, assuming he was fortunate enough to even get there. Eventually, I opted to leave the rest of the page blank – not that I thought Rog could win it all, but it's irritating to have to continue a list elsewhere, and, with sport, you just never quite know.
Thus did I dutifully track his progression through the tournament, one match at a time, all of them accompanied by the unusual novelty of Federer playing the role of underdog (or, if that word seems too strong for you – as if the greatest male player of all time could ever be an underdog, you are thinking – I can soften this phrase to "the unusual novelty of Federer, whose balletic movement and impossibly beautiful yet vicious groundstrokes are seared into my memory the way my favourite Mozart piano concerto is, things so resonant with beauty that they hardly give me space to breathe, being himself a novelty"). "First round – vs. Meltzer (AUT) – Jan 16 @ 3am (2nd match)," I jotted down below the washi tape header, then breathed a sigh of relief when, upon seeing on the morning of the 16th that he had won after all, I completed the line with, " –W 7-5, 3-6, 6-2, 6-2." The young American Noah Rubin came next, and, because it was a day match in Melbourne (which translates into an evening match on the east coast of the U.S.), I was able to watch it live. I remember thinking what a joy it was to see him play again, but, while he won that match in straight sets too ("Second round – vs. Rubin (USA) – Jan 17 @ 7pm (3rd match) – W 7-5, 6-3, 7-6(3)"), it wasn't, well, magical.
Then came the third-round match encounter with Tomas Berdych. Now this, I thought, was genuinely terrifying. The Czech is no slouch and has taken Federer out of a Grand Slam on two previous occasions, and you might think that, knowing this, I would have learned my lesson and stayed away, but of course I woke up early that morning and, sitting in bed with multiple blankets layered over my shoulders and my iPad propped up on my lap, I watched, astonished, as Federer engineered a complete demolition job on court. This was all getting decidedly unreal.
Each successive stage of the tournament – another line in the planner to fill – only heightened the unreality of it all, culminating in his victory over erstwhile rival/frenemy/alter ego Nadal in a five-set final. Has a more patently fantastical thought ever crossed my tennis mind? Almost half a year after the fact, I still don't quite believe it. (I watch this 26-shot rally from late in the fifth set every once in a while to remind myself that this match actually happened. That down-the-line forehand winner from Fed, sending back a ball hit so close to the doubles alley that you can see him practically tipping sideways into it, surprises me every time.)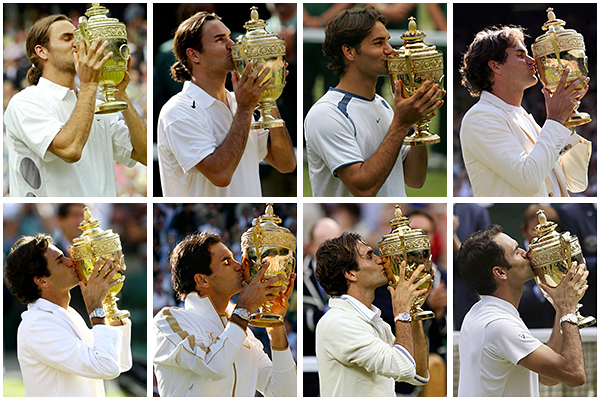 Yet nothing that has transpired in 2017 felt nearly as topsy turvy as Fed, in what should by all rights be the late winter of his career, going into Wimbledon as the prohibitive favourite, parting his way through the draw with those otherworldly racquet skills and an almost rude degree of confidence, and emerging the eventual champion without dropping a set. The final, a straightforward thumping of Marin Cilic, may have been an altogether anticlimactic match, but that did not stop me from rocking back and forth on the sofa throughout that last service game, knowing what would lie on the other side if Rog were in fact to prevail: an eighth title at Wimbledon, a 19th major title overall, and a claim on two of the three Slams played so far in 2017 along with Masters 1000 events in Indian Wells and Miami. This is not merely playing well: it is reprising the kind of unprecedented supremacy of the men's tour (Rafa Nadal's impregnable clay kingdom notwithstanding) that Federer once made commonplace in his own earlier years, only to have done it now – I mean, it's just completely mad, and it would be the stuff of the most unmoored of dreams if it weren't so blissfully, blissfully true.